Benefits of Solar Cooking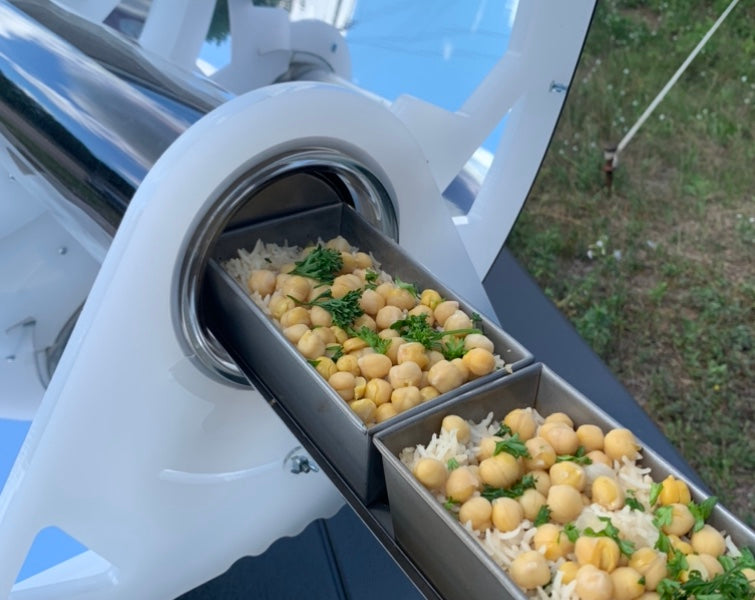 Glenergy would like to tell you more about solar cooking! We believe in the potential for solar cooking to reduce reliance on burning fuel and provide energy freedom globally.
One benefit of solar cooking is that it is a sustainable alternative to cooking with fuels like wood, charcoal, or gas. These fuels contribute to various environmental issues. Solar cooking uses natural fuel from the sun and is therefore environmentally friendly.
Solar cooking also provides a number of health benefits. Harmful chemicals from a wood or charcoal stove that produce smoke can expose your lungs to a respiratory disease1. Eliminating these harmful fuels from your home is a natural way to remain healthy, while sustainably cooking delicious meals.
One study2 states that indoor air pollution is responsible for 36% of mortality from respiratory diseases as wells as contributing to non-respiratory pathology. Solar cooking is done outside while using the natural resource of the sun which helps eliminate these health concerns.
A third benefit to solar cooking is that there is less need to collect and purchase fuel for cooking, saving you time and money. A solar cooker will be a one-time purchase and there are no extra costs for fuel or electricity. Introducing solar cooking in your home will allow you to spend more time with family and save your money for other necessary costs of living.
Solar cooking has the potential to bring a number of positive impacts on your life! Clean cooking is a step in the right direction when it comes to improving your health, carbon footprint, and saving your money.
References:
"How to get started with a sun oven" – GoSun https://gosun.co/blogs/news/how-to-get-started-with-a-sun-oven
"Biomass fuel use and indoor air pollution in homes in Malawi" –

G. Fullerton

,

S. Semple

,

F. Kalambo

,

A. Suseno

,

R. Malamba

,

G. Henderson

,

J. G. Ayres

,

S. B. Gordon