Celebrating 20 Years of Clean Energy!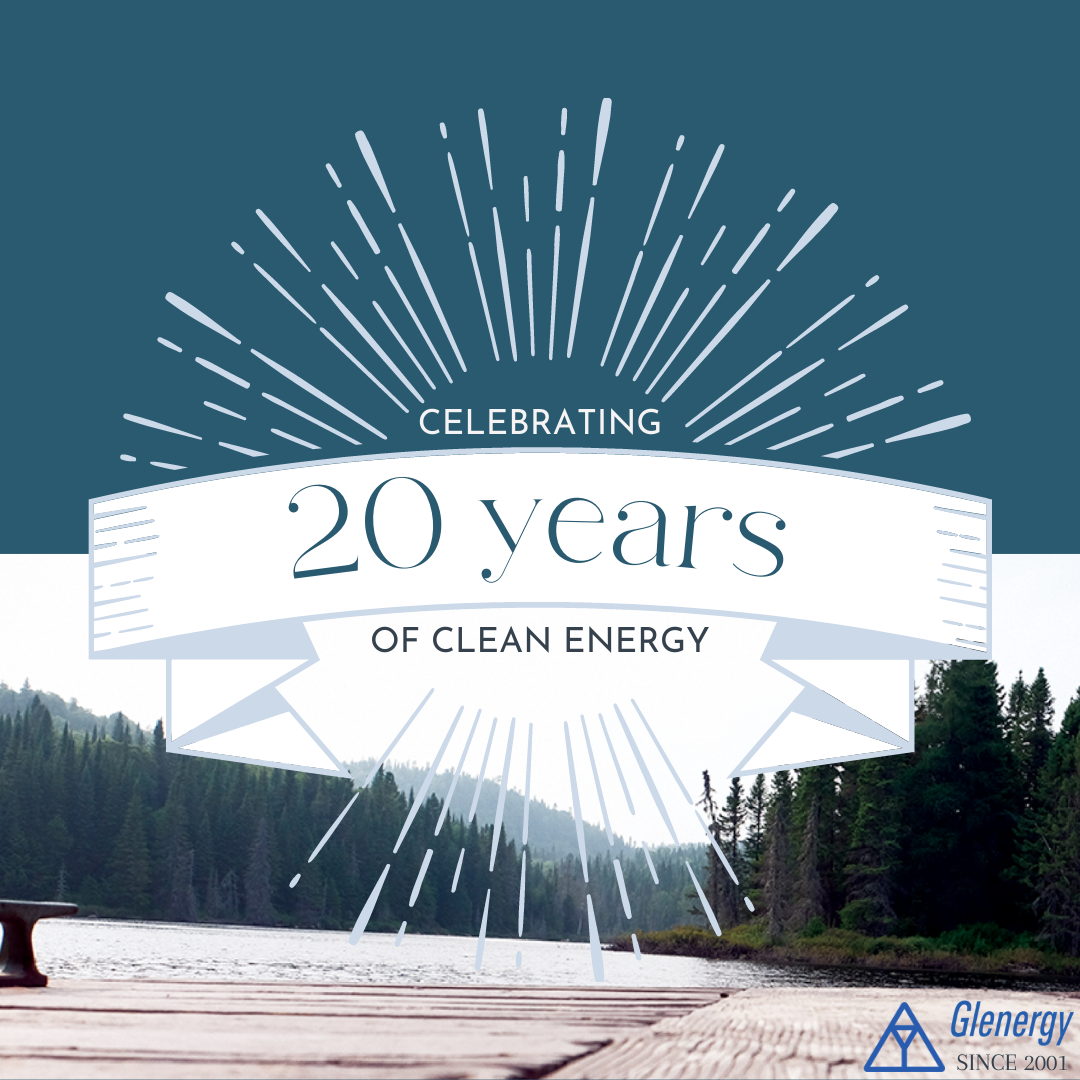 Some of you may know us as:
that "solar energy company in Petawawa"

a GoSun retailer

the lighting people, or

the company working and doing things in Africa. 
Truth is, all of these statements capture who we are! 
Asides from being known as a solar solutions company, we have come to be known as a "vehicle for doing good in the world" with international operations in Tanzania, Uganda and Kenya.

Beneath the surface, the team here at Glenergy are passionate, caring, dedicated individuals giving it our best shot at driving change. 

Today, we proudly share with you some of our story.  How we made it to this very moment and what our plans are for the future. You will notice some of the years on the time line are hyperlinks, they will lead to a deeper story if you are interested in following along.
If you have made it here to this blog, we appreciate your support and time and are so grateful to be able to share this special moment with you!
 Year

 Events

2001

The year

Glen

ergy

 opens 

it's

 doors. 

We b

e

came an

 incorp

orated

 company

and began 

working on solar-powered bulbs

 and other products using light-emitting diodes

 with small manufacturing centres in Petawawa and Cape Breton.

 

2002

One year after opening, we

developed the 

Edulight

, a self-contained system that 

is powered by a small solar panel that helped to replace candles and paraffin lamps in 

third world countries.

2007
Moved to Petawawa, Ontario.

2008

2008 was a big year for us. We

attended

Lighting Africa 2008

, a World Bank Group initiative

 

in Acc

ra, Ghana

 – the first global business conference for off-grid lighting in Africa

, to 

present our proposal for solving the lack of affordable and safe lighting within the continent.

 

2009

In 2009 we f

ormed our very first international branch -  Glenergy Solutions in Tanzania

 

2010

A year later Glenergy Uganda was formed. We also sponsored the Lighting Africa Conference in Nairobi where we first met Greenlight Planet - who we proudly source solar lighting solutions from to this day.  

2011

A year after Glenergy Uganda was formed, Glenergy Kenya is formed. We also helped students from Bishop Smith Catholic High School in Pembroke, Ontario provide solar lights to people in Uganda. 


2012

Glenergy attends Lighting Africa in Dakar Senegal.

2016
This year marks a time when our mission began to shift to incorporate solar cooking at Glenergy. We became one of the only Canadian retailers of GoSun solar cookers. We also celebrated the distribution of solar lights in over 48 countries' and invested in HEYA 

2020

Glenergy designs and begins manufacturing of the Glenergy Solar cooker. The cooker has been tested by  Solar Cookers International.

And here we are. 2021.
Thank you to all our loyal customers who have stuck with us for all these years. Your support has help us transition into our next chapter. To our new customers, thank you for contributing to our story and helping us make the world a cleaner place.